The Unicycle Factory's Off-Center Wheels
Tom Miller (765) 452 - 2692
---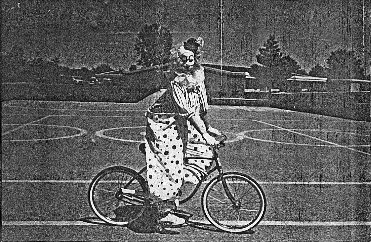 Off-Center Wheels / Wacky Wheels / Goofy Wheels set $210

They Bounce

They Hop

They Beep

They Bop

Off-Center Wheels, Wacky Wheels, Goofy Wheels, or Bronco Bike, No matter what you call them, they are loads of FUN! Perfect for Parties, Parades, Clowning, and all around Family fun Guaranteed to give years of entertainment.

These Wheels are specially re-spoked with long an short spokes to off-center the axle 1.25", giving the Wheels their unique rhythm. When installed on your old Bicycle, they hop like a Wild Bucking Bronco.

The Wheel set is easily installed on most 26" or 27" (Wheel size) Bicycles. The Kit includes 24" x 1.75" tires with tubes, front and rear Wheels with coaster brake, short 4.5 crank and a 32 tooth sprocket. Why the 4.5 crank you ask, because you are now using smaller Wheels that bounce lower to the ground. The original 6.5" cranks on your bike would cause the Pedals to bottom out in the turns.

Complete Off-Center Bicycles on request, call for more details. Special Double sided Kick-stand available on request. Other Custom Off-Center Wheels also available, (16", 20", 24", 26", or Off-Center Wheels for Unicycles also available).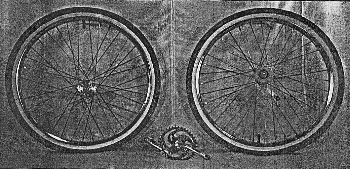 Wheel Set includes:
Complete Wheels
Tires & Tubes
Crank and Sprocket
Do it Yourself Clowning Bike Set Cost Breakdown
---
Back to Do It Yourself Kits

Back to Unicycle Factory

Last Revised: 27 December 2006